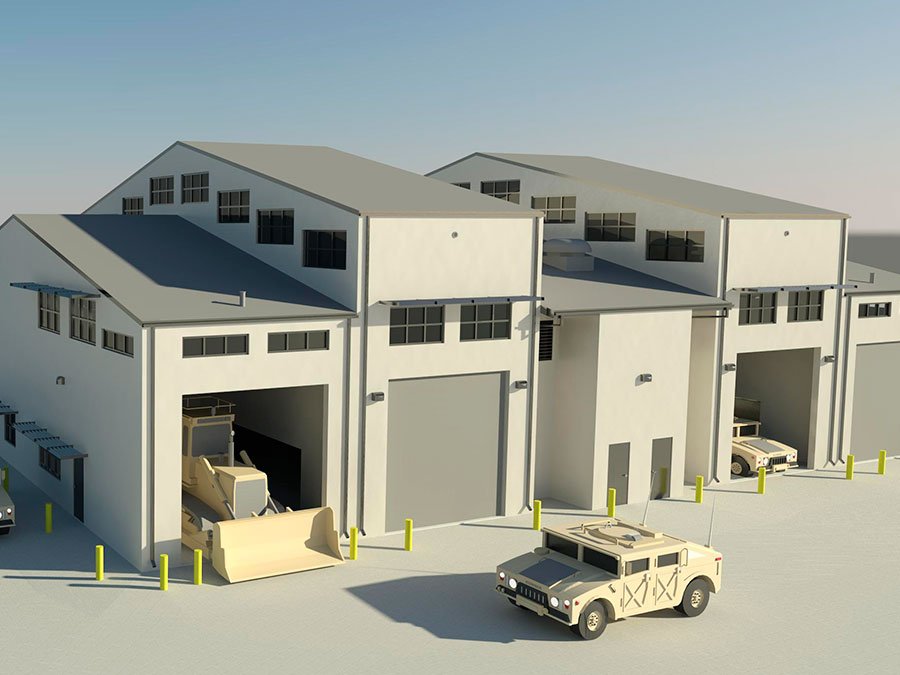 Battalion Equipment Maintenance Facility – Gulfport, Mississippi
FSA, Inc. was the Architect of Record and design team project manager associated with J. J. Sosa and Associates, Inc. for the Design/Build project of a new Battalion Maintenance Facility in NCBC, Gulfport, MS. Our services included survey, geotechnical, civil engineering, landscape architecture, architecture, structural, mechanical, plumbing, fire protection, electrical engineering and LEED certification management. The facility was certified LEED-NC Silver by the U.S. Green Building Council.
The project consisted of designing a 10,000 sq. ft. building for two separate Navy SeaBee battalions, constructed of insulated tilt-up concrete sandwich panels, cast-in-place concrete, and gabled standing seam metal roofs. It also included, four equipment service bays, support facilities, a 2,800 sq. ft. free standing vehicle wash rack building, loading ramp, reinforced concrete vehicle storage yard for 86 heavy construction vehicles and equipment and parking lot for 36 vehicles on a 14 acre site.